Used Car Buying Checklist: What to Look For

If you've determined that it's time to upgrade your Scranton-area adventures, buying used is a great way to get more for less. However, that's only really true if you know how to create a used car checklist that will help you get everything you desire and avoid bad investments. Bennett INFINITI of Wilkes-Barre is home to some of the area's foremost used car experts, and we're happy to pass along our knowledge and experience to our neighbors.
---
What to Do Before Buying a Used Car
Any solid used car-buying checklist will start with a list of your unique needs as a driver. Here's what you should keep in mind:
What kind of car or SUV is right for you? Consider your seating needs and your daily errands, as well as any adventures you'd like to take. Is power more important than fuel economy, or vice versa? You probably already have some idea of the car you'd like to buy, but it's good to be as explicit as possible.
Narrow it down until you have three or so options that you'd be happy within mind. Then, take a closer look at reliability reports and consumer reviews to find out how your favorite models tend to hold up over time.
Is it important for you to have a warranty? What about roadside assistance? Spending a little more money will get you the benefits of the INFINITI CPO program.
At the end of the day, the right used vehicle special just might be what convinces you to choose one model over the other.
Make sure you're not choosing a model that will cost more than you can afford month-to-month.
---
Used Car Inspection Checklist
Once you have an idea of what your needs are, and you know what kind of vehicle you're searching for, you may get lucky and find the perfect model on our used car lot — or somewhere else near Dunmore or Hazleton.Before you sign a contract (especially with a private seller), it's important to do your own inspection and make sure that you're getting a good deal! Looks can be deceiving. Here's how to be certain:
Before You Get Inside
Check out the tires. If there are significant differences in wear or shape, the vehicle might be misaligned, or at the least, poorly maintained.
Rust and dents are not just ugly to look at. A car with big dents may have structural frame damage that makes it a weaker choice. Rust, when left for long enough periods, can also impact the vital components of the vehicle.
Misaligned parts often indicate an accident. Although you can certainly buy a vehicle that has been in a crash, those models tend to be less reliable.
Getting Inside the Cabin
Interior quality can tell you what kind of struggle you're in for if you buy the car. Although it's possible to remove mold, mildew, and other bad smells, you might consider it too much work.
Start the car and make sure that all the instrumentation is working as it should. Are warning lights coming on and staying on? If the seller is upfront with you about any issues, it might still be worth buying. If they're cagey, it might mean that there's more to hide. Check out the vehicle's mileage, too.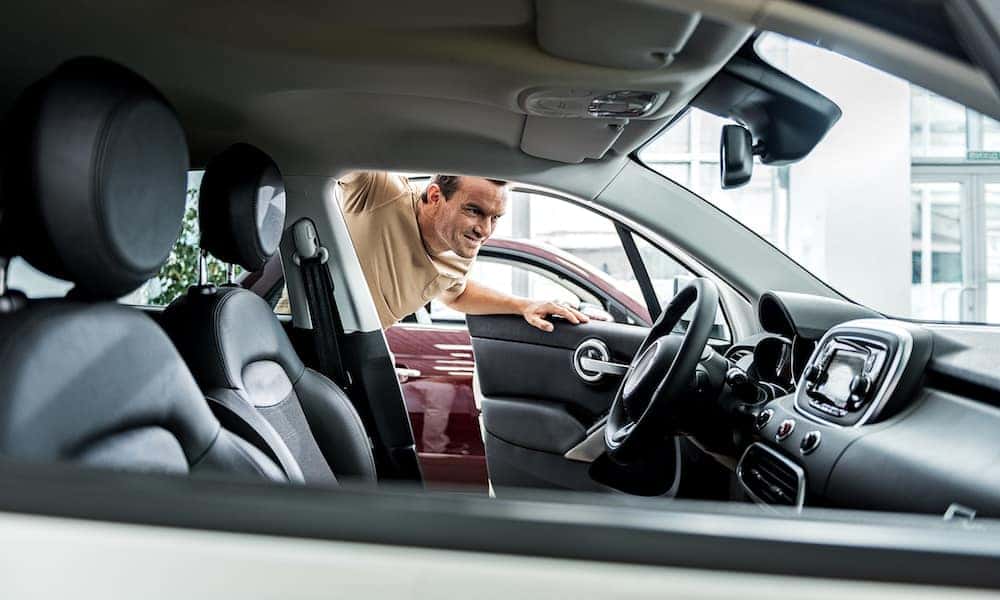 Testing Your Car's Performance
The first thing you should do is start the engine. Then get out and walk around to look at the exhaust pipe. A few fumes are normal, but a significant amount might tell you that there's some issue with the engine. Strange noises and long start-up times are also bad signs.
If everything looks alright, take a peek under the hood to see how everything is running. If you brought a friend with you, have them rev the engine while the car is in park, and you look under the hood. Gently done, this step can help you check the belts and hoses to make sure that everything's working well.
Then, turn off the engine and check the radiator fluid. If it's orange instead of green, you might be dealing with an expensive, hard-to-repair rusting or damaged radiator. Your oil should be light brown (if it's fresh), and your transmission fluid should be a translucent pink. Check the belts and hoses once more for signs of wear–cracking or bubbling.
Now comes the moment of truth. Go for a test drive and find out how the car actually runs! Be on the lookout for shaking and strange noises, and try to choose a car that doesn't pull to the left or the right. Make sure the vehicle accelerates and changes gears on cue. Test the controls to make sure that you won't be left without music or AC!
It's never a bad idea to have a trusted local service center look over the model you're thinking of buying. They'll be able to catch things you may have missed, including structural damage.
---
Find Your Next Used Car at Bennett INFINITI of Wilkes-Barre
Whether you choose to buy certified pre-owned for extra peace of mind, you're looking for a good interest rate on a used car, or you'd like to save with one of our pre-owned vehicles priced under 10K, you're sure to be excited by the options you have at Bennett INFINITI of Wilkes-Barre. We can't wait to show you what sets us apart from other used car lots near Scranton.
---
Used Cars in Wilkes-Barre