The luxury sedan market is just as competitive as ever, and more and more of our Scranton-area neighbors are lining up to compare the 2020 Acura TLX vs. 2020 INFINITI Q50. It's not hard to see why, as both models are recognized as exceptionally compelling entry-level models in their segment.
However, the INFINITI Q50 is the clear choice for the performance enthusiast. It's also more reliable, and more comfortable for passengers, too! Once you've seen the details, you'll be hard-pressed to disagree.
---
TLX vs. Q50 Power and Performance
This year, the INFINITI Q50 is offering an even stronger engine as standard. You'll enjoy 300 hp and 295 lb-ft of torque as standard, without paying for a single upgrade. Even if you're considering higher-end trims, it's clear that the INFINITI has the edge! It's available with up to 400 hp in its RED SPORT configuration. The TLX, on the other hand, only offers up to 290 hp with its available V6.
In terms of handling, there's no way to deny that the Q50 is the sportier choice. It comes standard with rear-wheel drive, and can be had with all-wheel drive too. While the TLX is also available with AWD, it comes standard with front-wheel drive–a more conventional choice.
---
TLX vs. Q50: Value and Reliability
Value-conscious drivers might be tempted to lean towards the slightly-cheaper Acura TLX. However, a close comparison between the TLX vs. Q50 reveals that only one of these models is truly built to last. (We also provide INFINITI Q50 lease offers to sweeten the deal.) Here's what you should keep in mind when you look at the INFINITI Q50 price:
J.D. Power has given the Acura TLX a predicted reliability score of just 2.5 out of 5. The INFINITI Q50 earned 3.5 out of 5, making it the smarter choice for the average Dunmore-area driver.
The INFINITI Q50 bumper-to-bumper warranty endures for up to 60,000 miles. The Acura TLX bumper-to-bumper warranty lasts for the same numbers of months (48), but expires early if you drive more than 50,000 miles.
The Q50 also offers an 84-month corrosion warranty. Although the TLX possesses its own corrosion warranty, it expires much more quickly, after just 60 months.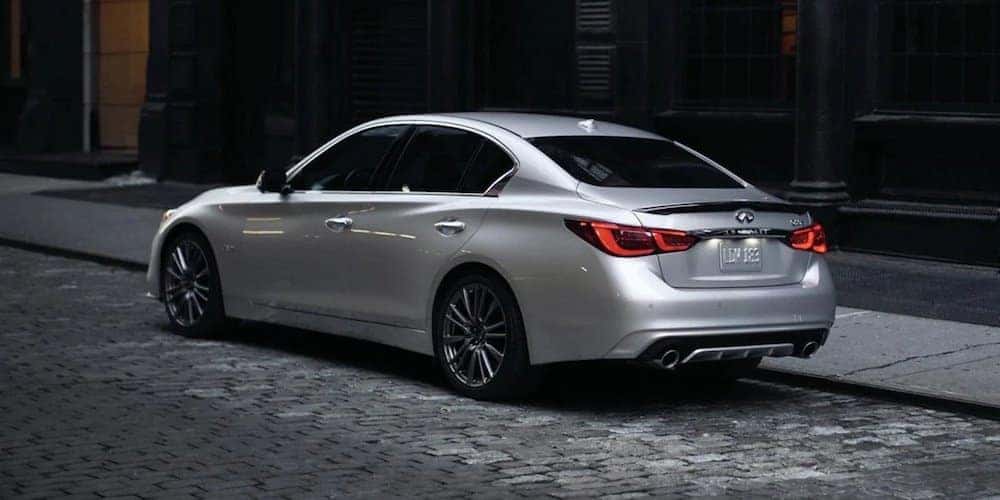 ---
TLX vs. Q50: Passenger Comfort and Interior Quality
Acura TLX Dimensions: With just 93 cubic feet of passenger space, and 34.5 inches of rear legroom, the Acura TLX cabin is bound to feel cramped as soon as it starts to fill up.
INFINITI Q50 Dimensions: Choose the INFINITI Q50 for a more spacious, welcoming cabin. Both front and rear-seated passengers will be able to spread out over its 101 cubic feet.
TLX vs. Q50 Cabin Materials: Step inside the Acura TLX cabin, and you're bound to notice all of the unappealing hard plastics. The Q50 cabin is more welcoming, with soft-touch materials throughout.
Both luxury sedans include a two-screen infotainment interface, but we think you'll agree that the INFINITI InTouch™ system is more intuitive, and easier to use!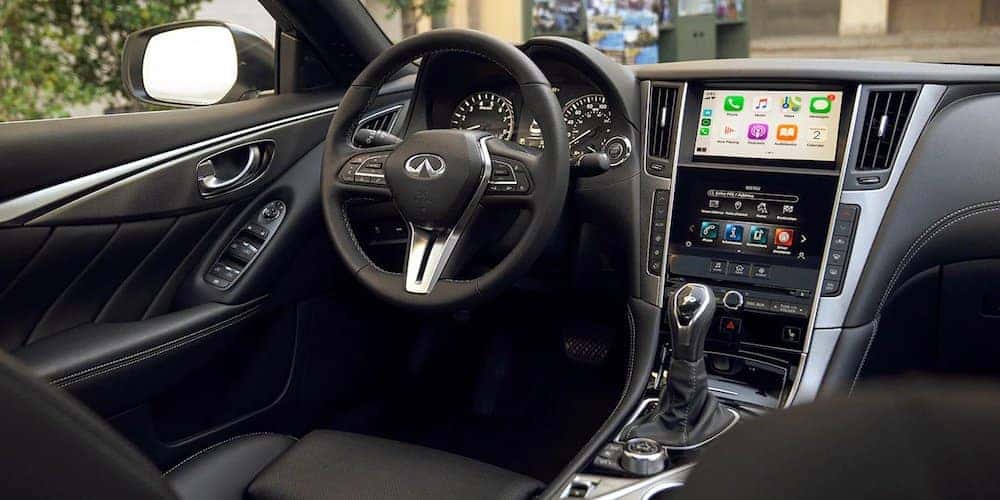 ---
Experience the INFINITI Q50 in Person!
Now that you've compared the Acura TLX vs. INFINITI Q50, you shouldn't have any trouble seeing why more and more of your neighbors are headed to Bennett INFINITI of Wilkes-Barre near Hazleton. Check out our new Q50 inventory and our Bennett Monthly Specials today, and don't wait to schedule your test drive. We also have a significant stock of used INFINITI Q50 models, so be sure to explore all your options.
Considering an SUV? If you like the INFINITI Q50, you just might love the 2020 INFINITI QX50 configurations.
2019 Signature Model Image Shown
---
New INFINITI Q50 for Sale