When was the last time your tires were rotated on your new INFINITI? Bennett INFINITI of Wilkes-Barre wants to help. Whether you are wondering about how to do a tire rotation yourself, or you just need a little refresher, you should think of Bennett INFINITI of Wilkes-Barre when you think of tires. Keep reading to find out how to rotate tires at home!
---
Why Should You Rotate Your Tires?
Tires rarely wear out evenly. Typically, the outside edges of your front tires show greater wear while the rear wheels often wear out more evenly. That's why if you don't routinely rotate your tires, they will wear at different rates and you'll have no choice but to replace your tires sooner. Regularly rotating the tires on your vehicle will provide better traction on Scranton streets and keep you and your passengers safer.
How Often Should You Rotate Your Tires?
Front and rear-wheel drive vehicles generally should have their tires rotated every 5,000 to 7,500 miles, while all-wheel drive vehicles generally require tire rotation every 3,000-5,000 miles. The reason AWD cars need their tires rotated more often is because all the tires are actively engaged at once and that causes faster wear.
Of course, Bennett INFINITI of Wilkes-Barre suggests that all Dunmore drivers check their owner's manual for specific recommendations on when to schedule service.
Tire Positions
FWD Tires: When working with FWD vehicles, move the front tires to the back of the vehicle in the same left/right positions. However, when it comes to moving the rear tires up to the front, you should switch the right and left tires.
RWD Tires: When working with RWD tires, do the opposite as stated above. The rear tires should be moved to the front of the auto in the same left and right positions. But when you move the front tires to the rear, switch the left and right tire positions.
---
Rotating Your Tires at Home
If you want to rotate tires at home, find a car jack and lug nut wrench. Then, when you're prepared, follow the five steps below and you'll know how to do a tire rotation:
Set the parking brake as an extra safety precaution.
Loosen all the lug nuts on all four wheels, but don't take them all the way.
Using the car jack, lift up one wheel and place the jack stand underneath it.
Remove all of the tires and make sure they're filled to the optimal tire pressure written on the outside of the tire. Once correctly filled, rotate them according to the appropriate pattern as directed above for your type of tires. Then, securely screw on the lug nuts by hand as far as you can.
Finally, lower the vehicle from the jack stand and use the lug wrench to tighten and secure all the nuts. It's best to work the lug nuts diagonally from one to another in a star-like pattern to make sure they are evenly tightened.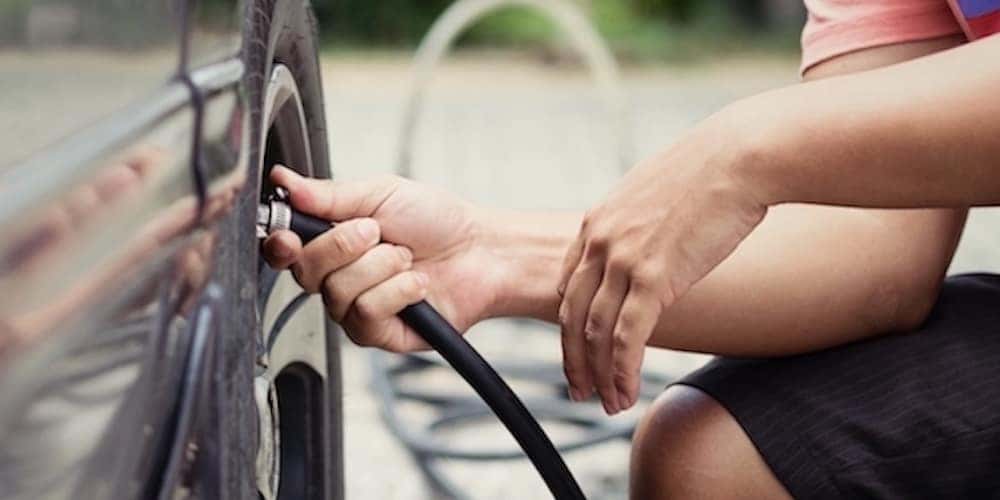 Bennett INFINITI of Wilkes-Barre is Here For All of Your Tire Needs
If you don't want to go to the trouble of rotating your tires yourself, make a service appointment with Bennett INFINITI of Wilkes-Barre. Our service department will take good care of your vehicle and have you back on Hazleton roads in no time. Check out our service specials and give us a call today with any additional questions like how often should I have my oil changed, how to fix a car dent or scratch, or the recommended INFINITI maintenance schedule.
---
Auto Service Coupons in Wilkes-Barre
We are currently updating our Specials. Please check back soon.
---
Explore Our Models
Is it time to trade in your current vehicle for a luxury sedan like the 2021 INFINITI Q50? You're probably wondering about the 2021 INFINITI Q50 price, and we have that information for you! Scranton-area drivers will be happy to know that the new Q50 is an affordably-priced sedan that offers premium amenities and…

How much can the INFINITI QX80 tow to your vacation spot or campsite? No matter which trim level you choose, the standard 5.6L V8 engine generates a max 2021 INFINITI QX80 towing capacity of 8,500 pounds. Plus, 16.6 cubic feet of space behind the third row and a long list of towing-specific tech features…

The 2020 INFINITI QX60 offers Dunmore drivers the luxurious interior cabin that's fully loaded with features and amenities that will make even the longest car rides more enjoyable. Step inside of the INFINITI QX60 interior and enjoy a posh interior with lots of space and high-end technology. Even the entry-level configuration offers a suite…